1. How do I select the right non-financial indicators?
Internal and external sustainability reporting should focus on relevant and meaningful metrics (Key Performance Indicators, KPIs) that can be used to identify and steer positive and negative impacts on key areas of the value creation process. These KPIs should be based on coherent reporting processes in order to ensure accurate and reliable data.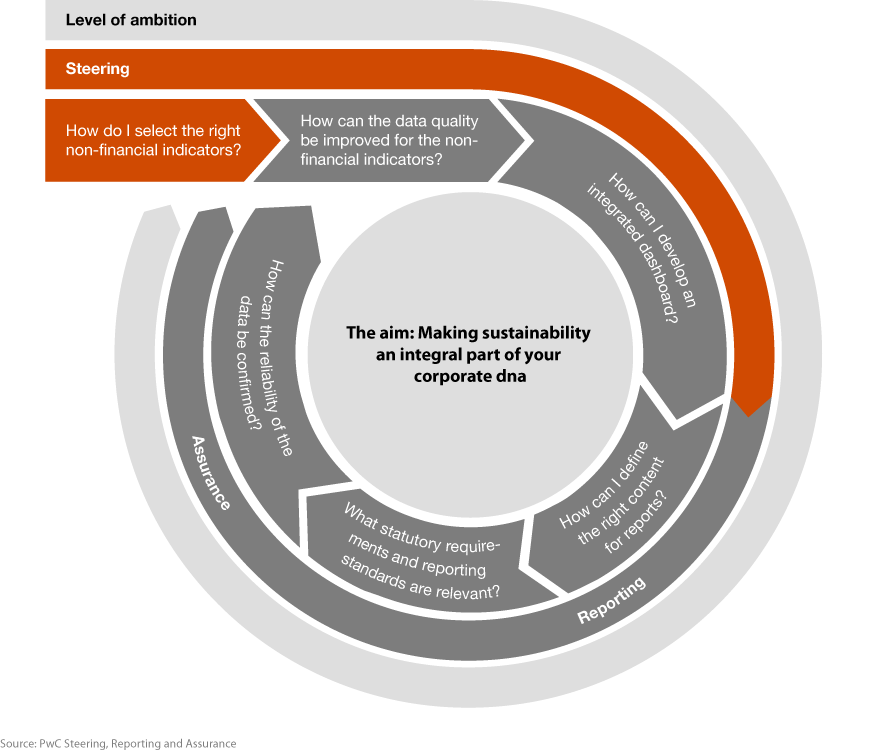 2. How can I improve the data quality for non-financial indicators?
A fully functioning Internal Control System (ICS) is vitally important in order to generate reliable non-financial data for effective decision-making and to strengthen the trust of stakeholders. Standard definitions for KPIs, as well as automated and standardised processes, and formalised and effective controls, are fundamental to obtaining accurate and comprehensive non-financial data.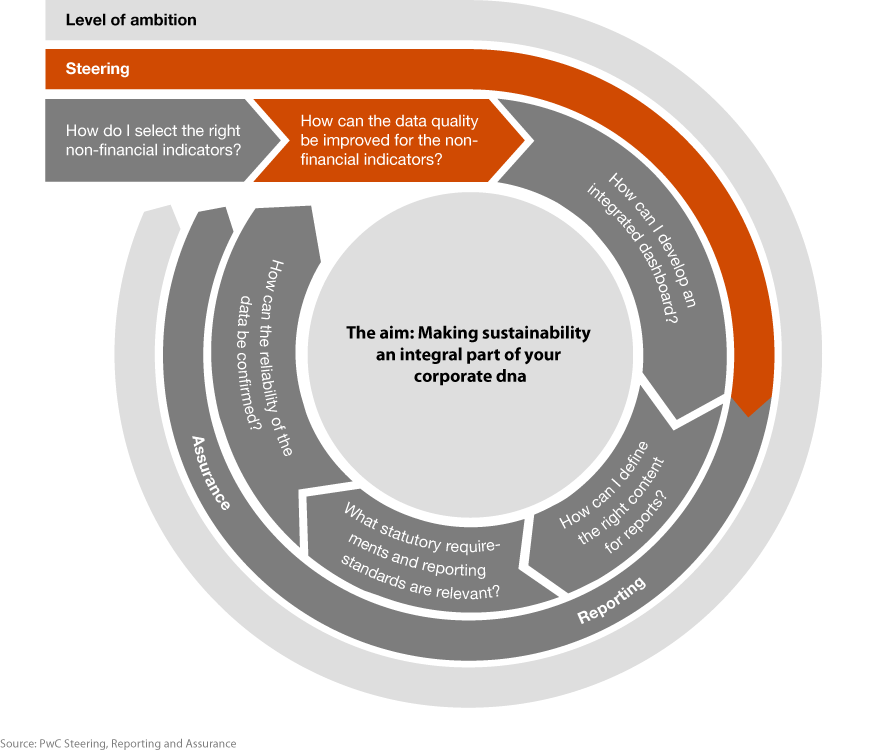 3. How can I develop an integrated dashboard?
An integrated dashboard gives a company a solid overview of the value creation process. It shows how stakeholder expectations are integrated into its strategy and provides insights into risks and opportunities. In essence, it highlights the KPIs that are necessary for the company to manage progress toward achieving its goals.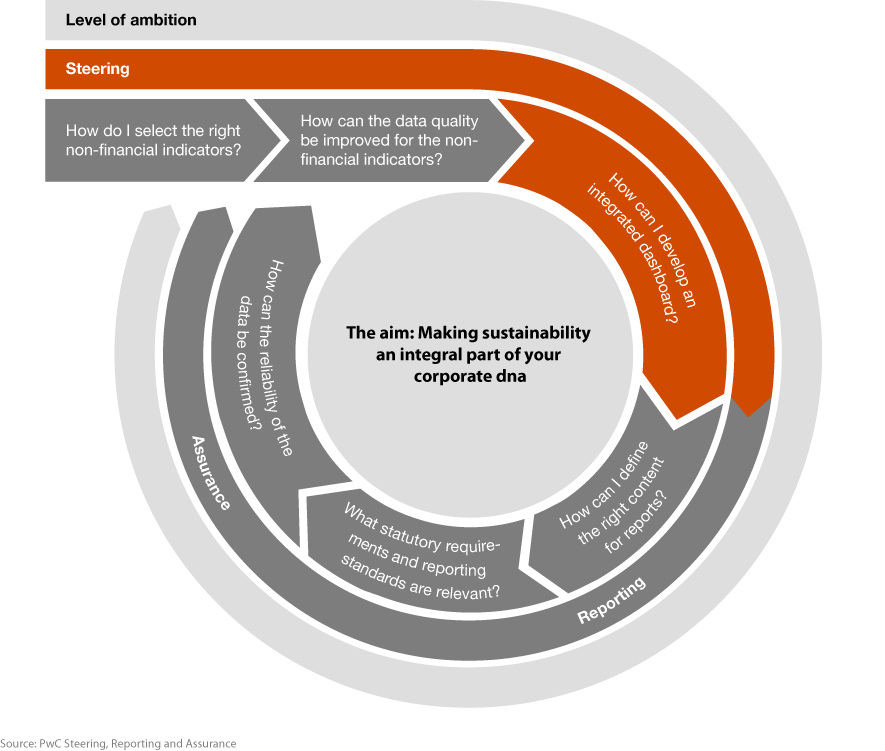 4. How can I define the right content for reports?
It is important to select the right content for external communication and to create a structured report that provides a holistic view of the company. This enables a company to meet the needs of all relevant stakeholders, rankings and ratings – while also avoiding a situation where stakeholders are overwhelmed by an excessively detailed or complex reporting approach.
5. What statutory requirements must I comply with? Which reporting standards are relevant?
There are more and more requirements and reporting standards for non-financial reporting. Meeting all of these expectations is a significant challenge for companies. In addition to the CSR Directive Implementation Act in Germany, there are several voluntary standards – including those for the Global Reporting Initiative (GRI), as well as those for the Task Force on Climate-related Financial Disclosures (TCFD), the United Nations Sustainable Development Goals (SDGs), the Principles for Responsible Investment (PRI), and the German Sustainability Code (Deutscher Nachhaltigkeitskodex, DNK). The challenge for companies is to select the standards that add value and that best facilitate compliance with regulatory requirements.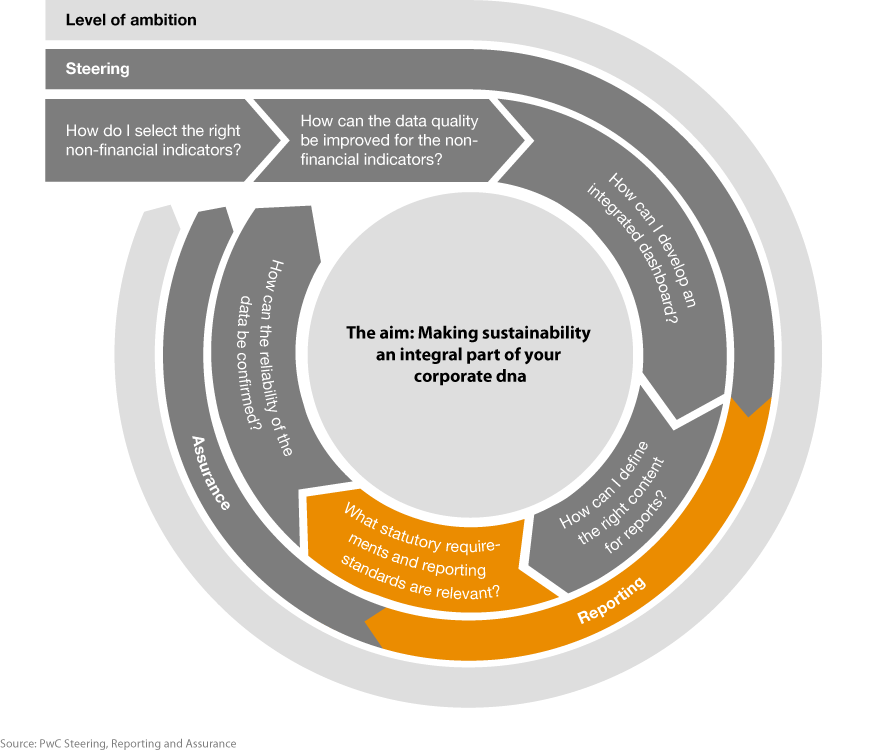 6. How can external assurance confirm the reliability of the data?
In general, reporting processes for non-financial data do not offer the same level of maturity as those for financial reporting. External assurance helps to ensure the reliability of the data and can assist the supervisory board in performing its monitoring function. In addition, external assurance can identify gaps in the reporting process and the approach to controlling, which enables further improvements to the sustainability reporting approach.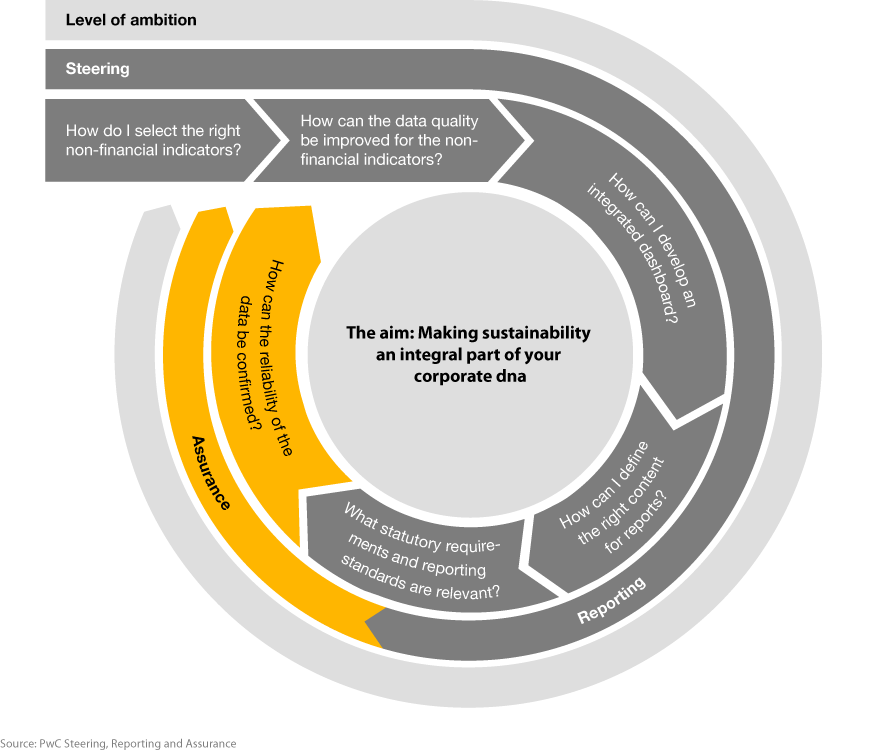 The aim: Making sustainability an integral part of your company's DNA
Holistic steering and reporting can ensure that sustainability is much more than a "nice-to-have" topic by making sure it is addressed in all areas of the organisation that have an impact on steering – and that it gradually becomes integrated into the company's DNA.