Prospective targets
When we speak of "driving investments", we mean those investments where the focus lies on strategic objectives. This enables companies to drive their strategy in the truest meaning of the word. When an established company makes a driving investment, it invests, for instance, in a startup which offers products and services which drive forward a technological standard which the investing company has itself developed. The startup is thus closely involved in the investing company's core operating business.
"From a strategic standpoint, such an investment can make a lot of sense. However, this form of investment is less suited to disruptive strategies or identifying new opportunities. Companies that want to grow beyond their current strategy and processes should therefore not limit themselves to driving investments", says PwC expert Florian Noell.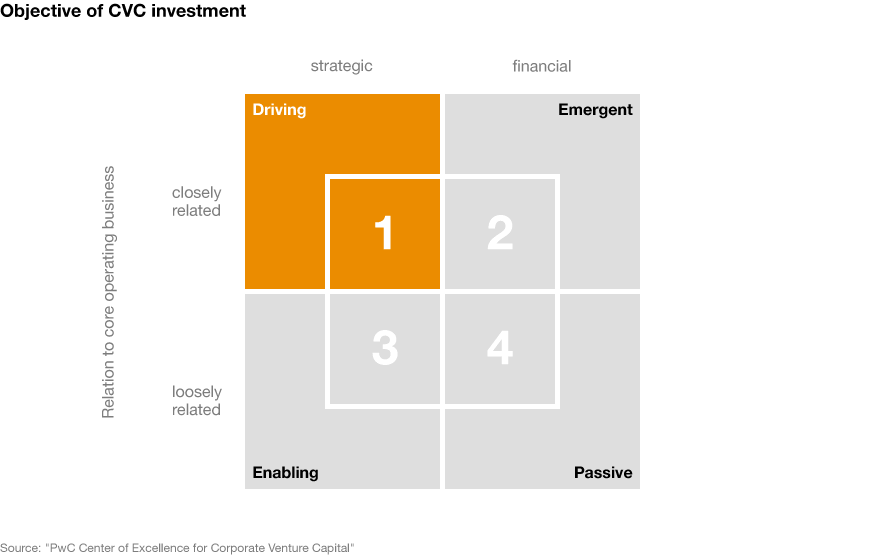 Emergent investments enable companies to discover new business sectors
Under this form of VC investment, the overlap between the startup and the investing company's core operating business is also significant. However, the focus rests on economic objectives. Thus, companies can use emergent investments to promote technologies which they so far have not used or are less familiar with, or they can explore new business opportunities. It is also conceivable for the startup and investing company to share their production facilities and distribution channels, thereby enhancing the efficiency of their own production and distribution processes.
"Emergent" investments are thus suitable, in particular, for experimenting with new technologies and capabilities, or for closing strategic gaps. "Emergent investments are particularly popular in times of economic boom. That's because when the economy is running smoothly, the chances of solid financial returns are good. This offsets the risk that the investment may not be strategically beneficial", says PwC expert Florian Nöll.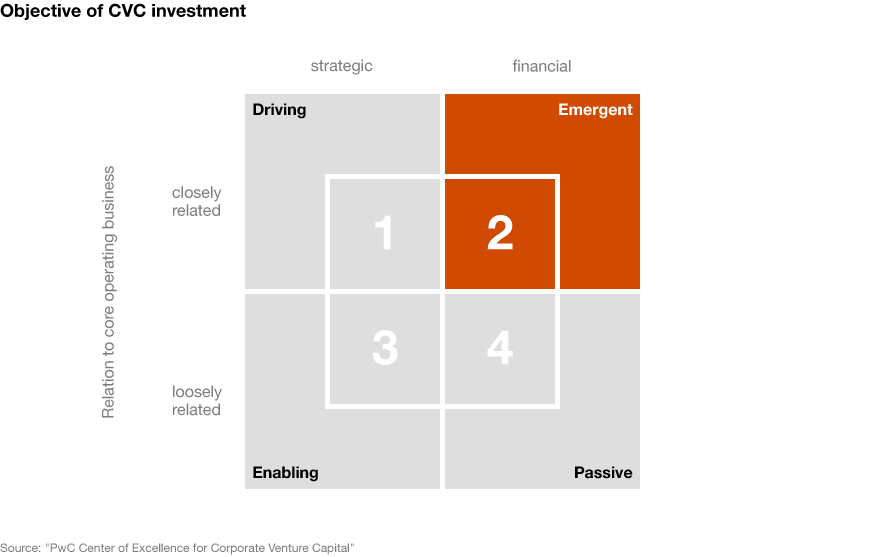 Enabling investments complement the current business strategy
The defining feature of enabling investments is that they complement a company's current business strategy. An established company can use the products or services offered by a startup to boost demand for its own products and services. This type of strategic investment plan is thus developed mainly based on strategic considerations.
However, in the case of enabling investments, the startup is not so closely interwoven with the investing company's organisation or core operating business. A good example of an enabling investment is an investment in a startup that develops products and services that boost demand for the investing company's own products.
"In difficult economic times, these investments may become more expensive and less attractive than other forms of business development. Nevertheless, enabling investments can bring lasting benefits", says Florian Nöll.
Passive investments merely seek returns
A further option – albeit less popular – is passive investment. In a passive investment, the startup's business model has very little to do with that of the investing company. Most passive investments do not pursue any strategic objective. The investment in the startup is more of a purely financial affair.